Let Melody guide you on your journey ...
MELODY is a small company by Mrs. Junko Flatscher, offering tours & experiences revolving around music & culture.
Enjoy some of our "melodic" tours ...
"The tour was amazing. Junko was amazing. It was my birthday & she gave me a CD of hers, we listen to it to remind us of the warmth of her spirit & beauty of Salzburg. She also interacted with my 5yro & he loved the attention. Thank you Junko, we would take a tour with you any day. Hugs & Kisses Sherri, Linc & Josh."
- Sherri Sporne from Australia
Jun. 7th 2011
"We had a great time with Junko! She was friendly and very informative and sings lovely. took extra special care of my mom with her crutches and wheelchair. My mom also really enjoyed her and the tour. It was specially designed to adapt with my mothers walking problems. A great day out Thanks Junko from Lizette & Susara"
- Lizette Riekert from South Africa
Jun. 10th 2010
"We wish to say a big thank you to Junko who was a warm and friendly host for the beautiful Salzburg. Junko is a very talented vocalist and made the music come alive for us. We also thoroughly enjoyed her company, her English was excellent and we had plenty of interesting conversation whilst we enjoyed the tour with smiles and laughter – thanks again"
- Carl Crome from the United States
Dec. 21st 2012
"Junko was a fantastic guide. She was a delight to have for nearly 4 hours in Salzburg. She was very considerate by asking us if we needed to rest at parts of the tour. Her stories about Mozart as well as the city itself was interesting and our family will remember her tour for years to come. She also took pictures of our group which was very sweet. Thank you Junko!"
- Kathrine Lloyd from Canada
Dec. 26th 2014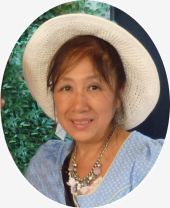 Hello! I'm Junko Flatscher, a state-certified touristguide, interpreter, singer ("June Makino"), and more. Originally from Japan as an english & music teacher, I was fascinated by Salzburg's music & culture (I especially love"The Sound of Music" & Mozart), and now I am the (singing) 
"MELODY-Guide"!
>> Read more